Ashton Kutcher Movie 'jOBS' to Be Released in April
Open Road Films has announced that it is the distributor for the Ashton Kutcher-led film jOBS, and that the movie will receive a full release in April of this year, reports Deadline.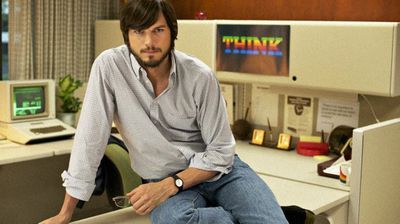 Directed by Joshua Michael Stern, written by Matthew Whitely, shot by Oscar- winning cinematographer Russell Carpenter and produced by Mark Hulme, jOBS details the major moments and defining characters that influenced Steve Jobs on a daily basis from 1971 through 2000. jOBS plunges into the depths of his character, creating an intense dialogue-driven story that is as much a sweeping epic as it is an immensely personal portrait of Steve Jobs' life. The filmmakers were granted unprecedented access during shooting to the historic garage in Palo Alto, that served as the birthplace to Apple Inc. jOBS stars Ashton Kutcher, Dermot Mulroney, Josh Gad, Lukas Haas, J.K. Simmons and Matthew Modine. Inferno Entertainment is handling international sales on jOBS.
The film will premier at the Sundance Film Festival in Utah later this month.