Auxo Shows Off a Redesigned iOS App Switcher
Apple has spent little focus updating its iOS app switcher since it was introduced with iOS 4, so designer @Sentry_NC decided to try his hand at a new concept for app switching.
In October, he created a mockup on The Verge forums of an iOS app switcher that takes advantage of the iPhone 5's elongated screen, providing easy access to settings and additional app management tools.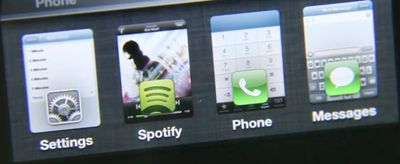 Though it was originally designed as just a concept, the Auxo iOS app switcher has now become a reality as a jailbreak tweak after Sentry teamed up with two app developers.
Auxo's design allows users to control apps with intuitive touch gestures. For example, sliding down on an app closes it, while swiping left reveals both music controls and toggle controls for adjusting brightness and turning Wi-Fi on and off. The video below, from iDownloadBlog, demonstrates how Auxo works.
The Auxo tweak may be limited to jailbroken devices, but it serves as an impressive example of the improvements that could be made to future versions of iOS if Apple takes notice. Auxo is not currently available, but it is coming soon to Cydia for jailbroken iOS 6 devices.