iOS 6 Adoption Uptick Due to iPhone 5 Release in China, Not Google Maps?
Ad network and analytics firm Chitika claims it has seen no significant increase in iOS 6 adoption in the U.S. and Canada. A company analyst believes the MoPub data (which was international, rather than domestic) we wrote about earlier today was affected by the recent launch of the iPhone 5 in China, rather than the release of Google Maps.
This past weekend, Apple issued a press release bragging that it had sold more than two million iPhone 5 units in China over the first three days of availability.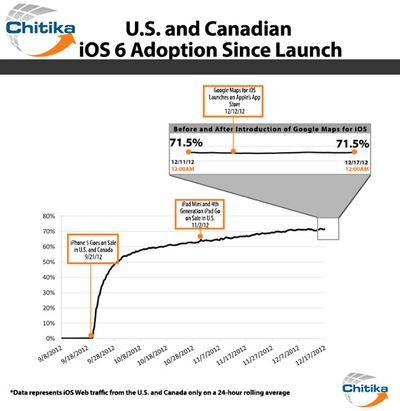 In the chart above -- which only looks at data from the U.S. and Canada, rather than the international data that MoPub examined -- the iOS 6 adoption slope following the release of Google Maps for iOS remains practically unchanged from before the release, suggesting a sea change in iOS 6 adoption rates resulting from Google Maps release is inaccurate.
Chitika Data Solutions Engineer Gabe Donnini:
Thursday, December 20th marks the first full week of Google Maps' availability in the Apple App Store. To determine the impact of Google Maps on iOS 6 adoption, Chitika Insights conducted a research study analyzing the trend in adoption rates since the applications' release, along with mapping the OS' adoption rates since its debut on September 19th, 2012 for added context. Following Google Maps' release, Chitika Insights observed iOS 6 usage remain fairly flat from midnight on December 13th to midnight on December 17th 2012.
On Monday, Google reported that Google Maps for iOS had been downloaded more than 10 million times.