Apple Notifies European Publishers of 5-Year Halt to 'Most Favored Nation' E-Book Clause
As noted by SetteB.IT, Apple has notified its European publishing partners for the iBookstore that it has suspended the "most favored nation" clause of its book-selling contract for a period of five years. The clause had prevented publishers from selling their books to other distributors at prices lower than those offered to Apple.
The arrangement had been the subject of an antitrust investigation by the European Commission and a settlement in that case was officially approved last week.
Apple hereby notifies you that, until December 18, 2017, with respect to any book sold in the European Economic Ares (EEA), Apple will no longer apply nor enforce any retail price parity (also know as retail price MFN) provisions in your eBook Distribution Agreement (e.g. Section 5(b) of the Agreement). The change is being made pursuant to a settlement between Apple and the European Commission to resolve case number 49847. The European Commission investigation of Apple's eBook business is now closed. The European Commission has signaled that it will not challenge any other term of our ebook distribution agreement.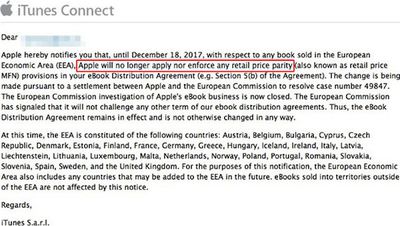 Apple notes that the EEA where the new directive applies includes Austria, Belgium, Bulgaria, Cyprus, Czech Republic, Denmark, Estonia, Finland, France, Germany, Greece, Hungary, Iceland, Ireland, Italy, Latvia, Liechtenstein, Lithuania, Luxembourg, Malta, Netherlands, Norway, Poland, Portugal, Romania, Slovakia, Slovenia, Spain, Sweden, and the United Kingdom.
Apple worked with publishers to facilitate a landmark shift in the business model for selling books, shifting to an "agency model" in which publishers set retail prices and distributors such as Apple receive a negotiated share of that retail price, similar to how the App Store operates. Under the previous wholesale model in which distributors were allowed to set their own retail prices, Amazon was able to hold a dominant share of the market as it sold books at or below cost in order to entice customers into visiting the site to purchase other products and services.
A key part of the agency model was Apple's "most favored nation" clause guaranteeing that Apple received the best possible pricing from publishers. The move effectively meant that all major distributors offered very similar pricing on books, but with the elimination of that clause publishers are now free to negotiate with distributors, a move that will likely to allow market leaders like Amazon to gain better pricing than smaller rivals.