Alfred is a beloved launcher program for Mac OS X that allows users to quickly launch Google searches, launch applications, make quick calculations and more. Now, the developers behind Alfred have revealed in a blog post one of the new features for version 2.0.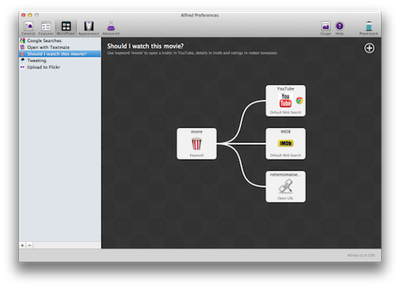 The feature is called Workflows and allows users to create advanced functions to make Alfred even more useful. Some examples are the ability to research a film before watching or uploading photos to Flickr.

Movies weren't created equal, so before I start watching a movie, I can search for "movie dark knight rises" to decide whether or not I should watch it. This will launch a YouTube search for the trailer in Chrome (because I don't have Flash installed in Safari), an IMDB search using a default web search, and a Rotten Tomatoes custom search I've created.
Alfred 2.0 goes into beta in January and prospective beta testers can take part by upgrading to a "Mega Supporter" account.