Walmart Offering iPhone 5 for $127, Third-Generation iPad for $399
With the holiday shopping season in full swing, we've been highlighting several increasingly good deals on the iPhone 5, and Walmart is now launching new discounts on both the iPhone and iPad that may be of interest to some readers.
Starting today, Walmart has dropped prices on both the iPhone 5 and iPhone 4S, with the 16 GB iPhone 5 now on sale for just $127 and the iPhone 4S coming in at $47.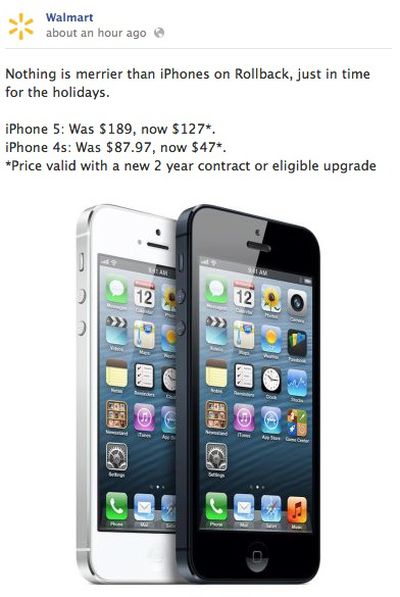 In addition, Walmart is now selling the latest fourth-generation 16 GB Wi-Fi iPad for just $399, a $100 discount from standard pricing. And beginning on Monday, Walmart will also include a $30 iTunes gift card bonus with iPad purchases.
Despite the iPhone 5 having launched in the United States less than three months ago, retailers are offering aggressive discounts on the devices to attract holiday shoppers. RadioShack is currently offering all iPhone 5 and iPhone 4S models at $50 discounts from their regular prices, and also offering email coupons for $10 credit on future purchases for every $50 spent during the holiday shopping season. RadioShack also offers price matching through its Mobile Low Price Guarantee, suggesting that it is likely to match Walmart's discounted pricing upon request.
Update: Wal-Mart spokesperson Sarah Spencer gave MacRumors this statement regarding inventory of the products on sale. Something to keep in mind for people thinking of taking advantage of the promotions:

Walmart works closely with Apple to secure some of the strongest allocations of their products. That being said, inventory is a first come first serve basis so we recommend customers come early to secure their Apple product. We will not offer rain checks but customers should know we will be refreshing our inventory on an ongoing basis.
Update 2: Walmart has contacted MacRumors to note that it erred in stating that the iPad promotion was for the current generation. It is in fact the third-generation iPad that is on closeout sale for $399.