Apple Begins Preparing First 27-Inch iMac Orders for Shipment [Update: Shipping]
As noted by a number of MacRumors forum members, customers who placed early orders for the new 27-inch iMac are beginning to see their credit cards charged and order statuses changing to "Preparing for Shipment". The new status indicates that the orders can no longer be changed or canceled and is the final stage before the machines are passed off to delivery companies.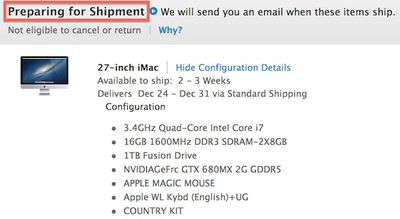 Customers who have received updated order statuses are reporting that they are still seeing their originally quoted delivery times, which are typically in the range of December 21-31, but it seems that their orders may arrive slightly ahead of that window if they ship out in a timely fashion.
So far it appears that only U.S. customers have reported seeing their orders being prepared for shipment, but there are still only a few data points available. A number of those seeing their orders being readied for delivery have also included built-to-order configurations, indicating that custom orders will be arriving essentially alongside stock models.
Update: Apple has now begun shipping these early orders, with many customers seeing delivery dates of December 18 while a few are seeing dates as early as December 13. We're also hearing from customers outside of the United States that their orders are similarly progressing toward shipment.