Square Adds Passbook Integration and Gift Cards
Square CEO Jack Dorsey today announced via Twitter that Square has added gift card capabilities to its iOS apps. The gift cards come alongside Passbook integration, which allows customers to send Square gift cards from local retailers and redeem them with Passbook.
Both of Square's iOS apps, merchant and consumer, have been updated to reflect the new changes.
Square Wallet, the consumer half of Square's payment system, gives customers the ability to purchase and receive gift cards from any retailer that uses Square Register to process payments. Many small businesses that previously didn't offer gift cards will now be able to via Square.
Square Register, which is designed for merchants, lets business owners accept the gift cards using a QR code, Square Wallet, or Apple's Passbook.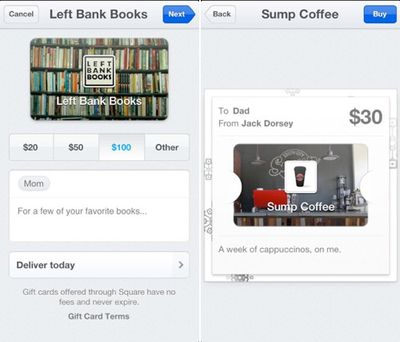 Square says the process is a simple one.

Give
Find a place your friends or family will love in Square Wallet. Choose the amount, write a special message, pick a theme and send. Instant gratification.

Receive
Save your Square gift card to Square Wallet so it's there when you need it. Using it is as easy as buying with Square Wallet. Simply say your name.
With Passbook integration, iOS users don't even need to access Square Wallet, which greatly simplifies the act of giving and receiving gift cards. This update will likely add a significant boost to the $10 billion per year in payments that Square already processes, and it is also a huge boon for independent retailers.
Both of Square's apps, Square Wallet and Square Register, are free downloads in the App Store.