Inside an Unofficial Third-Party Lightning Connector Production Facility
While the first official third-party accessories supporting Apple's new Lightning standard have just started hitting the market, MacRumors has also been following the efforts of unauthorized accessory manufacturers such as iPhone5mod who have been cracking the standard to produce their own chips and connectors.
iPhone5mod has already released a series of cables, docks, and adapters based on the Lightning standard as they continue refining their processes, and the company today announced its third-generation Lightning connector that is "almost identical" to Apple's implementation.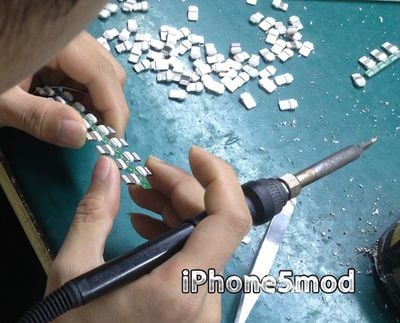 Furthermore, iPhone5mod has posted an inside look at its new production facilities, which are three times larger than its previous facilities and now support as many as 40 workers alongside increased automation. A video overview of the facility and a series of photos provide an interesting glimpse at what goes into production of these cables and other accessories.
Apple is
keeping tight control
over official Lightning connectors, and we've heard that supplies are currently limited to just a handful of third-party vendors with many others having to wait until next year to receive access to the connector hardware. Those tight supplies and Apple's relatively slow progress on its own and third-party accessories have left it open to companies such as iPhone5mod seeking to meet customer demand.