Realmac's decision to price the Mac version of its popular todo app Clear at $15 raised some eyebrows, with the company choosing to launch at a much lower price point and raising the price later.
In a blog post today, Realmac's Rob Jarman laid out the company's pricing philosophy, as well as some thoughts on app pricing in general:
Like most of us, when it comes to parting with my hard-earned money I'm an advocate for being prudent. To help decide on the value of something, I tend to use a "beer strategy". While trying to decide if I really wanted something I would work out how many pints I could get with the same money, then by missing 1 night out I'd make a guilt and hangover free purchase. By applying this strategy to our latest release of Clear for Mac for example, £6.99 could just about get you 2 pints. So for a piece of software that will increase my productivity, that I'll use every day skipping those two pints is an easy decision.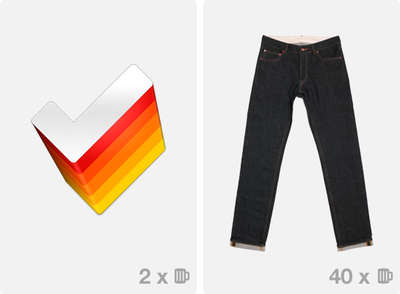 Now how about those Hiut Jeans I've been thinking about for a while? 40 pints. That's a few nights out, so I best start saving! I've chosen both our app Clear and Hiut Jeans for a reason. Both have a story, have had many months of development, and been built by people with a passion for what they do.

[…]

There are other todo list apps available which are cheaper, free even. There are apps which have way more features, and those that cost much, much more. So how does that change our perception of value? In our opinion, it doesn't. You won't find the same user experience with any other apps. The use of gestures is unique, and the simple approach to task management is unparalleled. The care we put into making sure the user experience is the best it can be is evident in every element of the app.

Now lets apply that thought process to the Hiut Jeans, why would I spend £130 on a pair of Jeans when I can pick up a pair for £20 on the high street? Because of the fit and finish. Because they were made by a "Grand Master" seamstress, using a sewing machine in Cardigan Bay, Wales. Because of the story. Because of the way they would make me feel. Because of sustainability. Just because software is a less tangible product, doesn't mean that the making behind the scenes differs in any way.