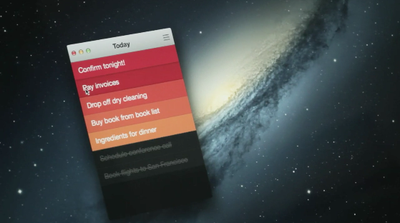 Popular iOS to-do app Clear is coming to the Mac complete with iCloud cross-platform syncing. Clear launched earlier this year to strong reviews of its minimalist interface. The app is designed to be extremely quick and easy to use, with lists automatically color coded in order of priority. The Mac app is expected to be released next week on November 8th. Realmac, the creator of Clear, plans to price the Mac version at $15. It will require OS X Mountain Lion.
With Clear for Mac, we wanted to spearhead a new design direction for Mac UI that focuses on simplicity. Featuring nearly all the gesturally-driven interactions from Clear for iPhone as well as a complete set of keyboard shortcuts, Clear will revolutionise the way you interact with your Mac.
Clear
for iPhone will be getting a free update next week as well, adding support for iCloud backup and syncing, as well as a few other nice features. The new version of Clear requires iOS 6. It's
available
on the App Store for $1.99. [
Direct Link
]
Update: Nik Fletcher, product manager for RealMac Software, commented in the MacRumors forum about the pricing decision on Clear for Mac:
Thanks for your feedback, guys. It's interesting to hear your thoughts on the app and pricing. Pricing it is always tricky, and whilst some folks may think that pricing is something that is simply determined at the last moment, that's not the case with us. We gave the Clear pricing a **lot** of thought (and continue to do so). We think great apps are worth paying for, and we want to ensure that we can always continue to build apps that people want to use.

Thanks again, I hope you enjoy using Clear for Mac and iPhone w/iCloud when it launches next week.