Apple Beginning to Catch Up on iPhone 5 Demand in U.S.
AppleInsider reports that Apple has nearly caught up with demand for the iPhone 5. This is based on data gathered by Piper Jaffray in nightly checks of 100 retail Apple Stores.
"As we get closer to the holiday, we believe consumers will likely have the ability to walk into an Apple Store and walk out with an iPhone 5 within the next two weeks," Munster said.
Available stock of the iPhone 5 has varied by carrier. Sprint models have been more readily available, while Verizon more scarce. But recently, all models are becoming more available: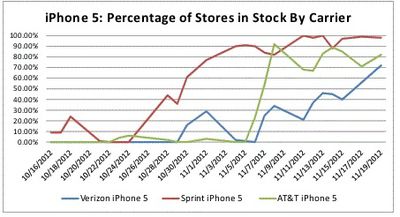 Meanwhile, there's also been evidence of improved supply on Apple's own online store with shipping estimates for new iPhone 5 models dropping to 2 weeks for the first time. Previously, iPhone 5 ship dates were out as far as 3-4 weeks, improving to 2-3 weeks last week, and now at 2 weeks.