JBL Launches First Lightning-Compatible Speaker Docks
Harman today announced the launch of the first two Lightning-compatible speaker docks under its JBL brand, offering owners of Apple's latest iOS devices direct support for the new connector standard for the first time.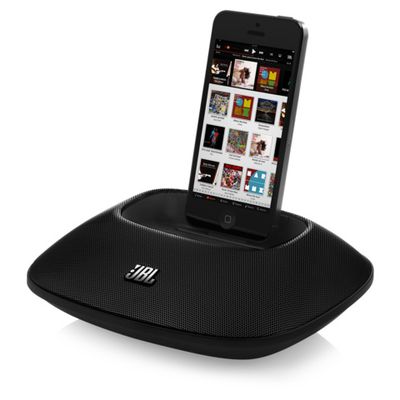 JBL OnBeat Micro
The two speaker docks include the
OnBeat Micro
($99.95) for the iPhone 5 and other small devices, and the larger
OnBeat Venue Lightning
($199.95) supporting the full line of Lightning devices including iPad, iPad mini, iPhone 5, iPod touch, and iPod nano.

JBL OnBeat Venue Lightning
Engadget
has a
brief review
of the new speaker docks:
Based on a quick listening session, we can report that the Venue LT sounded very full and clear. Even with the optional bass- or vocal-boosts enabled, it didn't seem like the speakers were having trouble pushing out a high level of volume. The Micro on the other hand sounded decidedly tinny, which we're frankly not surprised about given the size. Both systems are compatible with JBL's MusicFlow app as well, giving you some extended options for tweaking the EQ.
Engadget also noted a couple of issues with the Lightning connector itself on the docks, including the observation that the docks will not work with many common iPhone cases and that flexibility in the connector on the docks feels somewhat wobbly, allowing flexibility while docking to lessen the risk of breakage but leading to concerns about stability.
JBL was one of the vendors highlighted by Apple during the Lightning connector's introduction in mid-September as having received advance access to the standard. Other vendors included Bose, B&W, and B&O, which should all be announcing their own speaker products shortly.