Cellular-Capable iPad Pre-Orders En Route to U.S. Customers with Friday, November 16 Delivery
In line with reports from last week, Apple has begun shipping pre-orders of cellular-capable fourth-generation iPad models to U.S. customers. MacRumors has received word from over half a dozen readers indicating that their orders are now en route via FedEx with delivery scheduled for this Friday, November 16.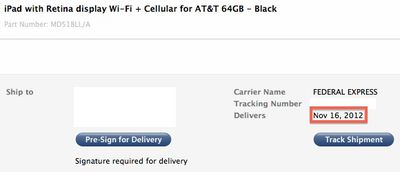 We had previously reported that some customers who were initially seeing delivery estimates of next week were receiving free upgrades to November 16 delivery upon request, and it now appears that most early pre-order customers will be seeing delivery this Friday even without special requests.
We had also received a report indicating that AT&T would begin selling the cellular-capable models of the iPad mini and fourth-generation iPad on November 16, with the carrier offering a $100 discount to those signing for a two-year data contract for the device. All iPad models including the iPad mini are eligible for the promotion.
We've yet to see word of any cellular-capable iPad mini pre-orders heading out for shipment, so it remains to be seen whether they too will make the same delivery window of this Friday.