CNET is reporting that Judge Lucy Koh will "consider the questions" of whether the jury foreman in the Apple v. Samsung case conducted himself improperly during the jury selection process.
Jury foreman Velvin Hogan has been one of the more visible members of the jury, speaking with numerous media agencies about the case and the billion-dollar verdict awarded in the case.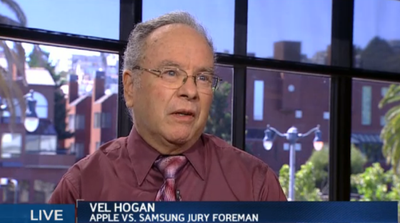 Koh said she will look into the matter during a December 6 hearing. As part of her inquiry, Koh said she will require Apple to disclose what information the company's lawyers knew about the jury foreman.

[…]

Samsung argued that jury foreman Velvin Hogan didn't disclose during jury selection that he had been sued by Seagate, his former employer. Samsung pointed out in court papers that Seagate and Samsung have a "substantial strategic relationship." The litigation with Seagate led Hogan to file for personal bankruptcy in 1993. Samsung maintains Hogan should have informed the court about the case.
Though the jury trial was finished earlier this year, Apple and Samsung's courtroom drama does not look to be abating any time soon.