Notoriously difficult video game classic Dragon's Lair has arrived on OS X nearly thirty years after its original release on LaserDisc. The game features video transferred directly from the high definition film master. Ports of the game have previously been released for both iPhone and iPad.
Dragon's Lair was unlike any other video game when it was released back in 1983. Instead of using low-definition sprites, the game used more traditional animation to show game play, with the user executing actions by timing sword swings or other button presses to correctly to clear each level.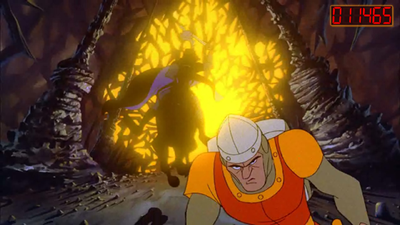 You control the actions of the daring adventurer, finding your way through the castle of a dark wizard, who has enchanted it with treacherous monsters and obstacles. In the mysterious caverns below the castle, your odyssey continues against the awesome forces that oppose your efforts to reach the dragon's lair. Dragon's Lair is a fully animated classic arcade game from legendary animator Don Bluth. You'll make your way through the castle and caverns below and wield your sword against some strange creatures. Beware of your foes, as they are numerous!
Dragon's Lair is available for $9.99 on the Mac App Store. [Direct Link]