Apple Removes Code Hiding Samsung Court Order on UK Website
As noted by CNET, Apple has tweaked its international sites to remove code that automatically pushed footer text including a court-order acknowledgment that Samsung had not infringed the protected iPad design in the UK below the scroll unless the user's browser window was extremely tall.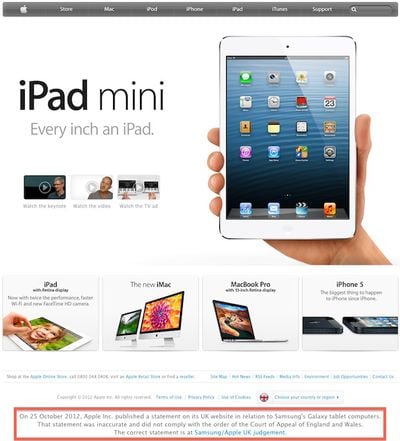 While Apple has used such vertically responsive design before to automatically adjust page layouts based on browser window size, its use on the company's international front pages (but not the main apple.com page) was seen as an effort to hide the notice on its UK page.
The international pages are now using the same layout as the main apple.com site, alternating between the iPad mini and the fourth-generation iPad as featured products and keeping a static layout. Previously, images within the iPad mini feature linking to the keynote and product videos automatically moved to underneath the feature section as the browser window was made taller, pushing the footer text where the Samsung acknowledgement was out of view unless the page was scrolled.