Apple Posts Revised Samsung Apology on UK Website, Hides It Below the Fold
Over the past several months, we've been following the situation with a court case in the United Kingdom in which Apple was ordered to post an acknowledgement on its website and place advertisements in newspapers and magazines acknowledging that Samsung did not infringe upon the protected iPad design with its line of Galaxy Tab devices.
The original statement published by Apple playfully quoted statements from the judge's ruling saying that the Samsung Galaxy Tab was "not as cool" as the iPad and noted that it had won cases against Samsung in other jurisdictions, but the court did not take kindly to Apple's additions to the required text.
Apple has now posted revised text linked from its main UK page, with the new text appearing to be in compliance with the court's order. But as The Next Web points out, Apple has added a bit of code to its site to ensure that the notice can not be seen by users unless they scroll down the page.
This code essentially ensures that the iPad mini advertisement takes up the whole page. In other words, no matter your resolution, you won't see the statement without scrolling down the page. It's no wonder that it took Apple so long to post the second apology; the company was likely looking for loopholes. [...]

What this does show, however, is that Apple is very unhappy with the verdict in the UK. The company is doing everything it can to ensure as few people know about the issue as possible. Yet it's antics like this one that bring the verdict more and more into the spotlight.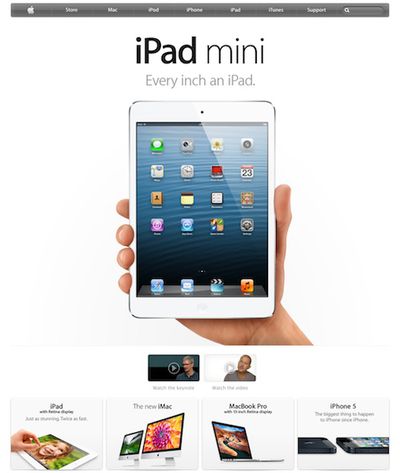 In our testing, a Safari window with the toolbar, bookmark bar, tab bar, and status bar turned on would have to be over 1700 pixels tall before the full Samsung text at the bottom of the page would be visible without scrolling.
The code is actually being used on a number of Apple's international sites that do not include the Samsung acknowledgement, giving the company the ability to claim that it was not specifically deployed to hide the statement, but it is not present on the main apple.com front page. It is also not the first time Apple has used such vertically responsive design, as it used similar scripts to adjust the layout of the main pages when the iPhone 5 was being featured.