Apple Sells Three Million iPads and iPad Minis in Opening Weekend
Apple today announced that it has sold a total of three million iPads since the launch of the iPad mini and fourth-generation iPad on Friday. The number was not broken down into separate counts of iPad and iPad mini sales.
Apple today announced it has sold three million iPads in just three days since the launch of its new iPad mini and fourth generation iPad—double the previous first weekend milestone of 1.5 million Wi-Fi only models sold for the third generation iPad in March. The Wi-Fi + Cellular versions of both iPad mini and fourth generation iPad will ship in a few weeks in the US and in many more countries later this year.

"Customers around the world love the new iPad mini and fourth generation iPad," said Tim Cook, Apple's CEO. "We set a new launch weekend record and practically sold out of iPad minis. We're working hard to build more quickly to meet the incredible demand."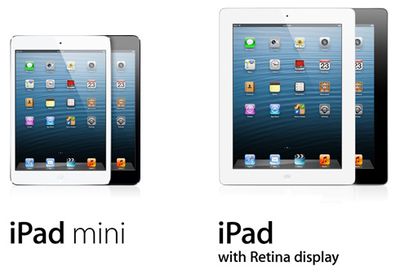 Topeka Capital Markets analyst Brian White has also released a new research report indicating that the iPad mini was completely sold out at 60% of surveyed U.S. Apple retail stores this weekend, with 16 GB models in both colors sold out at 100% of surveyed stores.
Of those stores that still had some iPad mini stock available, the 16GB in Black & Slate and White & Silver were 100% sold out, while 90% of the 32GB in Black & Slate were sold out and 76% of the White & Silver 32GB were sold out. Finally, only 14% of the 64GB of the Black & Slate were sold out at those stores with stock available and just 10% for the 64GB White & Silver.
White survey of New York City launch weekend customers found that white and black models were roughly equally popular, while 53% of customers opted for 16 GB models.