Nexus 10 Reviews Hit the Web as Fourth-Generation iPad Sales Begin
Just as Apple begins sales of the fourth-generation iPad and the iPad mini today, the embargo has lifted on reviews of Google's Nexus 10 tablet announced earlier this week. The device, which is manufactured by Samsung, builds on the relative success of the Nexus 7 to go head-to-head with the full-size iPad with a screen packing even more pixels than Apple's iPad Retina display.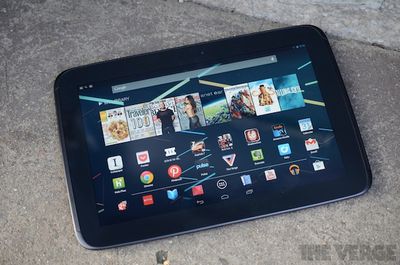 While tablet manufacturers have been able to make inroads on the market by targeting smaller 7-inch screen sizes, they have had less success competing directly against the full-size iPad. But as each new device packs in the latest features and specs, it is interesting to see how they compare to the iPad, which Apple has tried to keep at the head of the pack with its latest update offering double the performance compared to its predecessor.
We'll type it again just because it's kind of neat: 2,560 x 1,600. That's an awful, awful lot of pixels in just a 10.1-inch PLS LCD panel -- way more than a 1080p HDTV contains. That it's in something that comfortably can be carried around, and that can be acquired for under $400, is quite a marvelous feat. It's good to live in the future.

And, indeed, things look fantastically sharp here. Text is rendered incredibly crisply and the UI looks better than ever. The first-party icons are all crisp and clean, though many third-party app icons do look like they could use a new, higher-resolution rendering. Thankfully, the apps themselves overwhelmingly look fine.
The Nexus 10 feels like Google's open letter to developers. "Look how great Android tablets can be," the company seems to be saying, "if only you'd make great apps!" The Nexus 10's display is every bit the Retina's equal, the build quality is excellent, and it even has a half-decent set of speakers. Android 4.2 is more stable than ever, and Android does a lot of great things iOS simply doesn't. But you take it out of the box, say it's beautiful and fast... then what? Apple's tablet has 250,000-plus other apps that look and work great on a huge, high-res screen, and Android's ecosystem is leagues behind. The Nexus 10 is a great way to watch movies, but there's absolutely no way it's going to replace your laptop the way the iPad could.
The Nexus 10, built by go-to Google partner Samsung, feels like it's built for working and playing. It's grippy and rubbery, and the edges have this gentle slope that fits in hands in a variety of ways. You can hold it with one hand. I found my favorite way to use it was resting on the palm of one hand, like a painter's palette, using it with the other hand. I'd never do that with an iPad.
It's time for Google to step up to the plate and control the entire experience of Android and hardware. Does that mean that other hardware manufacturers should get the shaft? Maybe not, but I think Apple's #1 genius move is that it controls the hardware and software.

Apple has an advantage, but Google is right there on the cusp of something amazing. Maybe you don't agree with my statement that Android has a leg up for the tablet experience, but it's worth thinking about.
Overall, reviewers seem to feel that the Nexus 10 is a quality tablet that is still being held back by issues with Android and content, although TechCrunch remains impressed by the tablet experience on Android. With pricing starting at $399 for a 16 GB model, those looking for an iPad alternative are hoping that momentum at the 7-inch size will help drive developers to better optimize the Android tablet experience and provide a viable competitor for the full-size iPad.