Emoji Apps No Longer Welcome in App Store Following Native iOS 6 Support
Apple's iOS devices have long carried at least partial support for emoji, picture characters popular for text messaging in Japan but also gaining interest in countries around the world. Initially the feature was unlocked only for Japanese customers, but over time the company has broadened access to emoji and now supports several hundred emoji characters for all users once they enable the special emoji keyboard.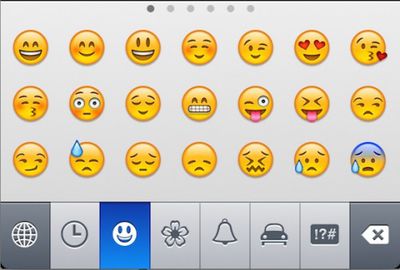 With iOS 6 bringing expanded emoji support, it appears that Apple is beginning to address the significant number of emoji apps in the App Store, sending out notices to developers informing them that their apps have been removed from the store because they are no longer useful given the built-in emoji support now available. MacRumors has heard from several developers who received such notices, and a number of other developers have mentioned them on Twitter, so it does appear to be a concerted effort by Apple.
Hello XXXX,

We are writing to let you know your app, XXXX, has been removed from the App Store because it is no longer needed to unlock Emoji.

Since iOS 6 now provides Emoji support to all users, your app is no longer in compliance with the App Store Review Guidelines <https://developer.apple.com/appstore/resources/approval/guidelines.html>

2.12 Apps that are not very useful, are simply web sites bundled as apps, or do not provide any lasting entertainment value may be rejected

If you have questions about the removal of your application, please contact App Review at appreview@apple.com. Please include the App ID and the name of your application in your email.

Thank you and best regards,

App Review
While Apple's notices state that the apps have been removed from the App Store, they do in fact seem to still be available, so it is unclear exactly what Apple's timeline for taking the apps down may be.
A number of the developers have noted that Apple seems to be targeting any app listing emoji among its features, not just those that are designed solely to enable emoji characters. Consequently, these developers argue that their apps are indeed useful and provide functionality beyond that offered in iOS 6 itself.