South Carolina-based Twelve South has released a new adjustable desktop stand designed to compliment Apple's sleek aluminum notebooks. The HiRise for MacBook stand elevates the notebook from a few inches to half a foot off the desk, while staying nearly invisible.
TwelveSouth sells a riser for the iMac as well, also called the HiRise.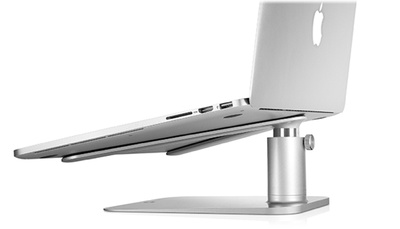 Twelve South's HiRise for MacBook is the only height-adjustable desktop stand that lets you turn your notebook into a comfortable desktop. Unlike a fixed stand, HiRise lets you elevate your MacBook to your most comfortable viewing height, from a few inches to half a foot off your desk. The sturdy, brushed metal stand is designed to work with MacBooks—and people—of all sizes.
HiRise for MacBook is available for $70 on the Twelve South website and Apple's online and retail stores.