Apple Retail Roundup: Palo Alto Store, Hurricane Sandy Preparations, Shenzhen Store
Apple's retail store unit has been generating some news over the past few days, so we've put together a roundup of some of the more significant items to summarize the latest developments.
- Apple opened its new Palo Alto store on Saturday. The new store replaces the company's previous downtown Palo Alto store that had typically been considered the company's "home store" and was occasionally visited by executives for major product launches. That store, opened in October 2001, was one of the first in Apple's retail chain.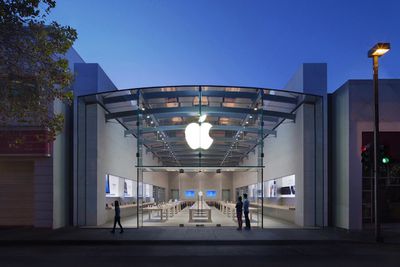 Apple's new Palo Alto retail store
Apple CEO Tim Cook was
on hand for the opening
of the new store, which is roughly 50% larger than the original one and is one of the first of a new prototype design based on the
Upper West Side store
in Manhattan. Houston's
Highland Village store
opened earlier this year with a similar design, while the company is also using the concept for a
replacement store
in Santa Monica, California.
- As the massive Hurricane Sandy approaches the Mid-Atlantic/Northeast coast of the United States, Apple retail stores are making their own preparations. Business Insider shared several photos from CNN producer Jonathan Wald showing Apple's subterranean Fifth Avenue store in Manhattan with sandbags piled in front and display products wrapped in plastic.

Sandbags and taped windows at 14th Street store in Manhattan (Thanks, Ethan!)
ifoAppleStore notes
that at least 35 Apple retail stores are located within the landfall prediction zone, and with many areas shutting down in advance of the storm it seems that Apple will be temporarily closing at least some locations from this group.
- Finally, in line with Apple retail chief John Browett's announcement at the opening of the latest Beijing retail store earlier this month, Apple will be opening its new Holiday Plaza store in Shenzhen, China on Saturday.

Construction barrier at Holiday Plaza store in Shenzhen (Source: M.I.C. gadget)
The location is notable as Shenzhen is the hub for much of Apple supply chain for its products, with Foxconn having massive facilities in the city dedicated to assembly of iOS devices. The city is also a hub for the counterfeiting industry and is the main point of entry for scalped products coming across the border from Hong Kong.