Phil Schiller Claims Customers Aren't Asking for Built-In Blu-Ray Anymore
Apple customers are no longer asking for Blu-ray drives in their Macs these days, according to Apple marketing head Phil Schiller. This is perhaps unsurprising given Apple's trend toward removing optical drives from its notebook and now desktop lines, but may regardless cause some consternation among Blu-ray fans.
A MacRumors post from June 2010 in which Steve Jobs told a reader that it appeared Blu-ray would be beaten by downloadable formats garnered more comments for a news post than any other in our history, and we still hear from tipsters asking when Apple will finally include a Blu-ray player in its Macs.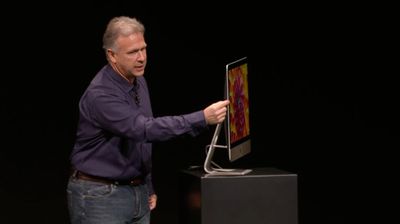 According to an interview Phil Schiller did with Time's Harry McCracken, native Blu-ray support will likely never come to the Mac.
Schiller pointed out that one major application for optical drives, software distribution, has gone largely digital. As for video, he said that "Blu-ray has come with issues unrelated to the actual quality of the movie that make [it] a complex and not-great technology…So for a whole plethora of reasons, it makes a lot of sense to get rid of optical discs in desktops and notebooks."

His preferred Blu-ray alternative? iTunes, of course, which lets you buy a movie and then watch it on all your Apple devices.

Once upon a time, people assumed that Macs' lack of Blu-ray was a delay, not a permanent decision to fast-forward past it. I told Schiller that I imagined folks don't ask about it much these days. "Correct," he said.
External Blu-ray drives are available currently via USB 2/3 and eventually via Thunderbolt but, given the overwhelming trend towards downloaded media, these are certainly niche products.