Apple Expands Seagate Hard Drive Replacement Program for 2009-2011 iMacs
Apple yesterday expanded its iMac 1TB Seagate Hard Drive Replacement Program, significantly increasing the number of machines eligible under the program to include iMacs sold between October 2009 and July 2011 with 1 TB Seagate hard drives.
Apple has determined that certain Seagate 1TB hard drives used in 21.5-inch and 27-inch iMac systems may fail. These systems were sold between October 2009 and July 2011.

Apple or an Apple Authorized Service Provider (AASP) will replace affected hard drives free of charge.
Apple launched the program in July 2011, but at that time it covered only those machines sold between May 2011 and July 2011. Apple has apparently now determined that the issue extends further back in time than previously thought, and has now included machines sold as far back as October 2009.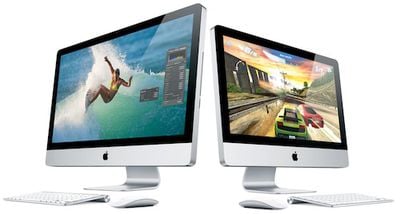 The original program was originally valid for one year, scheduled to expire July 23, 2012, but as that deadline passed the company extended the program for an additional year. With the program now covering a number of other machines, some of which were sold as much as three years ago, Apple has again updated the coverage terms.
The program covers affected iMacs for three years after the first retail sale of the unit or until April 12, 2013, whichever provides longer coverage for you. Apple will continue to evaluate service data and will provide further updates to this program as needed.
This is not the first time Apple has had issues with Seagate hard drives in its products, as the first several generations of the MacBook had the potential to experience data loss when the read/write heads on the Seagate drives failed prematurely, gouging the hard drive platter. Apple acknowledged the issue soon after it was first reported in late 2007, but waited over two years to launch a repair program to address the problem.