New Photos of Claimed Dock Connector and Headphone Jack for iPad Mini and Next iPhone in Black and White [Updated]
Photos of parts for the next-generation iPhone and the rumored iPad mini continue to leak, with repair firm iResQ posting new photos of what are said to be the dock connector/headphone jack flex cable parts for both devices. Each of the parts is available in both black and white, indicating that Apple will be coordinating the dock with the bodies of the devices.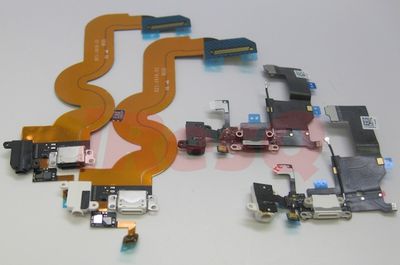 Like the photo that leaked earlier this week, the iPad mini parts curiously show the headphone jack at the bottom of the device. That placement is inconsistent with case leaks and other claims made thus far, which have indicated that the jack would be at the top of the device as on the full-size iPad.
These new iPad mini part photos also reveal a newer part number than seen on the previous part leak. These new photos appear to carry a part number of 821-1516, while the photo leaked early this week carried a part number of 821-1476. These iPad mini parts are the first interior components of the device to appear, and while they have not been confirmed to be for the device in question they are consistent with Apple parts and are too large to fit inside an iPhone.


A second photo also offers a close-up interior look at the dock connector port, showing where the eight gold pins on the claimed dock cable and accessories will make contact. The number of pins for the dock connector has been in dispute, with some suggesting that the metal surrounding the pins on the connector could act as a ninth pin.
Update: MacRumors has received more info from iResQ about the new dock connector port. The site tells us that "there is just one set of eight contacts inside of the port" with "none on the top side".