Apple's Lightning to 30-Pin Adapter Begins Shipping
Apple has just begun notifying the first wave of customers who ordered the company's new Lightning to 30-pin Adapter that their orders are now shipping. MacRumors has received word from several readers located in Australia that their orders are now in transit, with one reader's shipping notification indicating that his shipment is due to be delivered on October 9.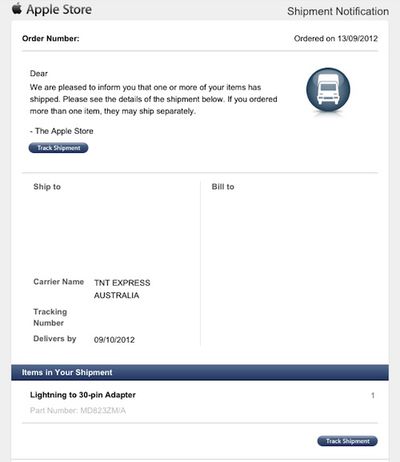 Apple is offering two versions of the adapter, a $29 direct plug adapter and a $39 adapter with a short cable. The adapters allow users to connect their new Lightning-enabled devices such as the iPhone 5 and forthcoming iPod touch and iPod nano models to docks and other accessories designed for the previous 30-pin dock connector.
(Thanks, MudgeeMac and Daniel!)