Mac Game Store Launches Steam-Like Digital Download App
MacGameStore.com has released a new Mac app to facilitate easy purchase and organization of games from the store. The app is similar to Steam, but specifically focused on digital game downloads for the Mac and includes many major titles from big studios like EA and Aspyr.
One particularly useful feature is a "Game Compatibility Checker" that compares the user's Mac to the game's requirements in real time, making life easier for users with slightly older machines. Another is the ability to delete purchased games and redownload them from the cloud at any time, a useful feature for MacBook Air owners with limited storage space.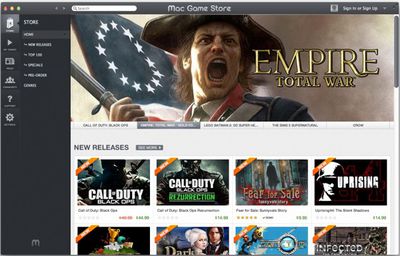 The Mac Game Store can also act as a repository for all the user's games, even those not purchased through the MGS, organizing them in one place for easy access. The store also gives access to demos for many games, as well as game reviews and ratings, and more.
The app is available free from Mac Game Store's website.