Apple Researching Flexible iPhone Displays with Under-Surface Speakers, Tactile Feedback, Laser Microphones
Unwired View takes a look at a newly-published Apple patent application addressing the company's interest in flexible displays and related inventions enabled by that technology.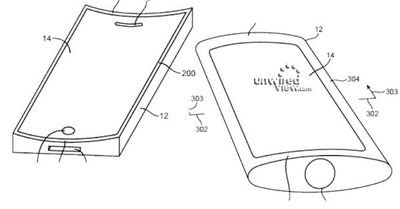 In the patent application, Apple details various iPhone form factors with concave and convex displays, and while such concepts have seen relatively significant work by a host of companies, Apple takes things a step further by using substantial flexibility in its proposed display to integrate features such as a tactile keyboard and microphones and speakers embedded under the display.
E.g. – by placing an array of piezoelectric actuators below the display and activating them on demand for tactile feedback. This way you have a perfectly smooth surface when you browse the net or read your e-mail. Call up a keyboard, actuators pop up and now you can feel the letters as you type.

Since your display is flexible – it could be able react to the sound vibrations as you speak. So why not put a laser microphone behind the display to capture those vibrations, and get rid of traditional mic holes?

And if you can capture sound vibrations via flexible display, how about generating sound waves? No problem. Just put a transducer behind it to transform electric current into vibrations, add some support structure/barrier around it and that part of your flex display becomes a speaker membrane.

Holes in cover layer to accommodate in-display speakers
Many of the inventions addressed in Apple's patent applications never see the light of day, but they can provide insight on the company's areas of interest and long-term vision for the future of its products.