Reports of Slow and Inconsistent Wi-Fi Connections on Some iPhone 5 Devices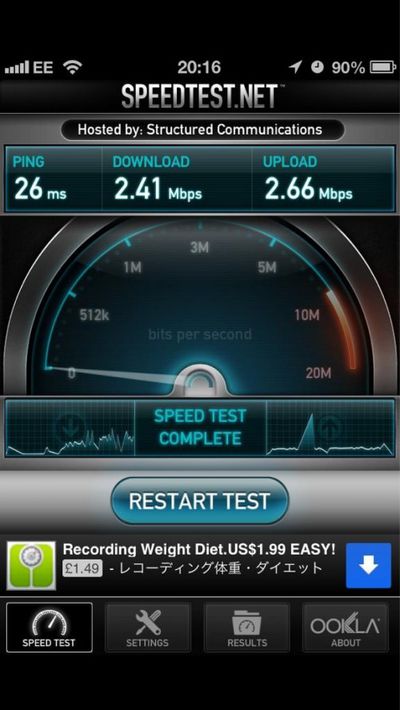 Now that the iPhone 5 has reached the hands of possibly millions of new customers, there are reports that some customers are having a problem with the iPhone 5's Wi-Fi connectivity.
A thread titled Painfully Slow WiFi on new iPhone 5 on our own forums details some of the problems that have been seen by some customers. Byran85 writes:
I just got done setting up my iPhone 5 (as new, not restore). I was trying to download my music from iTunes when it seemed to be taking forever. I cancelled the downloads and then kept testing the WiFi in various other ways. Just loading the app store, my iPhone 4 will load anything faster than my iPhone 5 right now. I've rebooted the router and tried multiple devices and have narrowed the problem down to the WiFi in the iPhone 5. I've also tried using different bands, 2.4 and 5 both produce the same outcome. I launched speedtest.net app about 2 minutes ago and hit begin test. Its still "finding the closest server". I have also tried the reset network settings. Still the same issue.
The rest of the thread shows others with the same type of problem (slow to no connectivity), while others report simply slower-than-normal connectivity. The image on the right was posted by @I_Am_Lucas showing ~2.5Mbps (~300K/s) on his Wi-Fi network. Others have even reported speeds down to 0.5Mbps (~62K/s).
Some users have been able to isolate their problem to when connecting to WPA2 encrypted Wi-Fi routers, and found that moving to (the much less secure) WEP encryption or being unprotected can resolve the issue. Since Apple Retail Stores have unprotected Wi-Fi, the issue may not show up at all in-store. Some have reported success with iPhone 5 hardware replacements from Apple, but several users have reported no success after getting a replacement unit. It should be noted that there may be multiple Wi-Fi related issues that could be affecting users. A lengthy thread in Apple's own discussion forum also reflects the same issues amongst many customers.
One Apple forum poster received confirmation from AppleCare that Apple seems to be aware of the issue, but a resolution is not yet available:
Just spoke with iPhone AppleCare and they are definitely aware of the problem and Apple engineers are working on it. I asked if it was hardware or software related and she said the WPA2 issue seems to be software based and the non-connecting issue may be hardware based, but that they are still trying to identify the cause.
According to the AppleCare representative, they are still working on the issue. The issue seems to affect a small minority of iPhone 5 owners.