Swiss Federal Railways Says Apple Copied Its Iconic Railway Clock
Switzerland's Schweizerische Bundesbahnen, or Swiss Federal Railway service, has accused Apple of using their iconic clock in its Clock app for iPad without permission, according to a report in the Swiss newspaper Blick [Google Translate].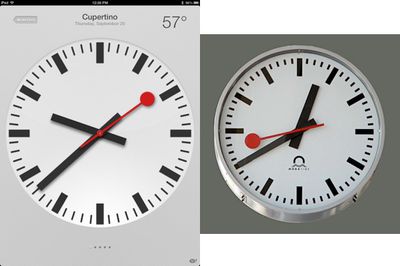 The clock
, designed by Hans Hilfiker, has become an icon of both the Swiss railway and of Switzerland itself. The trademark and copyright for the clock is owned by the Swiss Federal Railways service.
According to the article:
SBB is the sole owner of the trademark and copyright of the railway clock. The railway company will now get in touch with Apple. The aim is a legal, as well as a financial solution. It is not right that one [Apple] simply copies the design.
The paper notes that Apple Switzerland declined to comment and directed reporters to Apple's corporate headquarters in the United States.
The clock's image is widely licensed, with the watchmaker Mondaine selling replicas around the world.
(Thanks for the translation, Dave!)
Update: In the interest of fairness, we have changed our links from Tages-Anzeiger to the Swiss daily Blick, which first reported the story. The translated quote remains one provided by a MacRumors reader from a paragraph in the Tages-Anzeiger story.