Apple Design Chief Jonathan Ive Knighted in Buckingham Palace, Says 'Best Work' is Underway Now
BBC reports that Apple's design chief Jonathan Ive was knighted today in Buckingham Palace, with Princess Anne performing the honors. Ive's knighthood was announced in December, but the official ceremony was not held until today.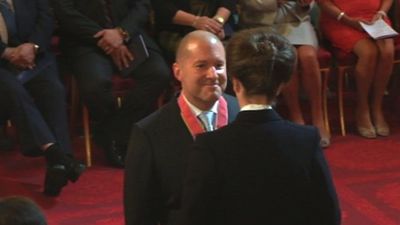 Ive's knighthood was accompanied by a rare extensive profile and interview with The Telegraph in which he shares details on his background and philosophy.
"All I've ever wanted to do is design and make; it's what I love doing. It's great if you can find what you love to do. Finding it is one thing but then to be able to practise that and be preoccupied with that is another," he says. "I'm very aware of an incredible tradition in the UK of designing and making, and so to be recognised in this way is really wonderful."
The humble Ive, who notably almost always uses "we" rather than "I" in discussion of Apple's design process, emphasizing the team aspect of the industrial design division's work, also discusses the care that Apple takes in designing every single aspect of each product.
"We're keenly aware that when we develop and make something and bring it to market that it really does speak to a set of values. And what preoccupies us is that sense of care, and what our products will not speak to is a schedule, what our products will not speak to is trying to respond to some corporate or competitive agenda. We're very genuinely designing the best products that we can for people."
Asked which of his designs is most important to him and for which he would like to be remembered most, Ive notes that his team's current projects are "the most important and the best work we've done" but that he of course can't disclose details on that work.