Five New Apple Retail Stores Opening for iPhone 5 Launch Week
In support of the initial launch of the iPhone 5 this Friday, Apple has announced five new grand openings for its retail store chain. The first opening of this week will take place on Thursday, when the new Rio Shopping store in Valladolid, Spain opens its doors. The somewhat unusual Thursday opening stems from the fact that the brand-new Rio Shopping mall itself is opening on that date.
With the iPhone 5 set to launch at 8:00 AM local time on Friday in nine countries, three new retail stores will be opening their doors for the first time for the launch. The new stores include:
- Sindelfingen, outside of Stuttgart, Germany, which we noted earlier this month was reported to have seen its opening date brought forward slightly as a hint of September 21 iPhone 5 availability in Germany. The report claimed that the store would open on Thursday, September 20, but this appears to have been referring to the media preview and friends and family events that precede the official opening.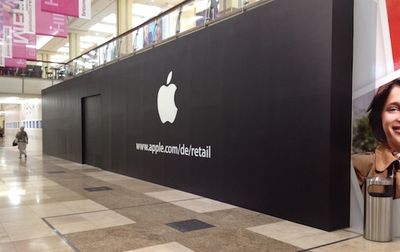 Apple's Sindelfingen retail store (Source: Macerkopf)
-
La Toison d'Or
in Dijon, France, which will be the 13th Apple retail store in the country. The closest current stores in Lyon and Geneva are roughly 200 kilometers away.
- Valley Plaza, in Bakersfield, California, which will be the 52nd Apple retail store in California. Despite its arrival in Apple's most popular state for retail stores, the new Bakersfield store fills a void in the company's coverage for the metro area of over 800,000 people, as the closest existing store until now has been located nearly 90 minutes away in Santa Clarita.
And finally, the launch week wraps up with the arrival of the Il Leone store in Lonato, Italy on Saturday. The new store, located between Milan and Venice and roughly 80 kilometers from the nearest current store in Bergamo, will see a traditional Saturday opening because Italy is not one of this Friday's launch markets for the iPhone 5. The device will launch in Italy one week later on Friday, September 28 as part of a rapid expansion to 22 new countries.