First iPhone 5 Reviews: Thinner, Lighter, LTE "Stunningly Fast"
The embargo has just lifted on the first iPhone 5 reviews. Apple has provided some publications with an early review unit of the iPhone 5. We are collecting some of the more interesting points from each review, but you can click each title to read the full writeup. The iPhone 5 will officially launch on September 21st and will be available in retail stores beginning at 8am.
- "The screen size lengthening is subtle: but, like the Retina Display, you're going to have a hard time going back once you've used it."
- "LTE, in my tests, ran anywhere from 10 to 20 [Mbps], which is up to twice as fast as my wireless router's connection at home."
- "Still pictures taken while recording video aren't shot using the normal 8-megapixel Web cam; they're screen captures of the video itself. The aspect ratio is different, and the image quality's a bit weaker."
- "callers I reached via speakerphone noticed a crisper, clearer call on the iPhone 5 versus the iPhone 4S."
- "The phone's lasted roughly the whole day each day, unplugging around 8 a.m. and engaging in a mix of calling, web surfing, video playback, downloading, game playing, FaceTime calling over Wi-Fi and LTE, and even a little 4G LTE hot spot use via my MacBook Air."
The Loop Review by Jim Dalrymple
- "If you told me that I would be able to see another few rows of emails or more of a Web page, I don't know that I would see the importance, but when you look at the iPhone 5, it's more than that. You have to see it to get an idea of what can be done."
The New York Times Review by David Pogue
- "The new phone, in all black or white, is beautiful. Especially the black one, whose gleaming, black-on-black, glass-and-aluminum body carries the design cues of a Stealth bomber."
- "The camera is among the best ever put into a phone. Its lowlight shots blow away the same efforts from an iPhone 4S."
- "It's just too bad about that connector change. Doesn't Apple worry about losing customer loyalty and sales?"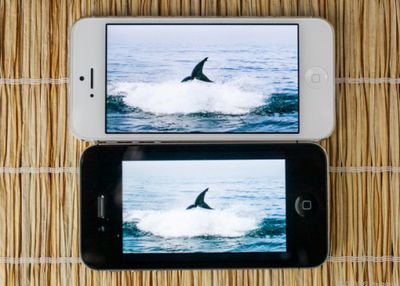 iPhone 4S vs 5 photo via
CNet
Engadget Review by Tim Stevens
- " At 112 grams it's 20 percent lighter than the 4S, a figure that doesn't seem like it would make much of an impact. It does -- so much so that it's the lightness, not the bigger display or the thinness, that nearly everybody praises when first getting a chance to hold the iPhone 5 in their own hands."
- "the Lightning connector is infinitely easier to connect. It slots in nicely and does so regardless of orientation, plugging in right-side-up or upside-down."
- "More problematic is the speed of this new connector. " -- Based on USB 2.0, so no faster than existing connector/cable.
- Taking photo speed is much improved.
- "On our standard battery rundown test, in which we loop a video with LTE and WiFi enabled and social accounts pinging at regular intervals, the iPhone 5 managed a hugely impressive 11 hours and 15 minutes."
- "In general, iOS 6 has seen some nice nips and tucks where it needed it. iCloud integration is tighter, Safari is better and the overall experience is more polished. But, it isn't a major step forward in any regard. "
Wall Street Journal Review by Walt Mossberg
- "I found the new iPhone screen much easier to hold and manipulate than its larger rivals and preferred it. In my view, Apple's approach makes the phone far more comfortable to use, especially one-handed."
- "The iPhone 5′s battery lasted between 9 and 12 hours every day, in mixed use. For most people, the phone would last the day without recharging."
- "The biggest drawback I found is the new Maps app. Apple has replaced Google Maps with a new maps app of its own. "
- "Don't get us wrong, it's a miracle how Apple has shed so much excess podge and millions of people will love the lightweight design, but we preferred the more robust, weapon-like nature of the 4S."
- "Given that iPhone 4S users can upgrade to iOS 6 and do just about everything the iPhone 5 can do, and that Android users can get similarly impressive handsets for less dosh, we reckon the smart money won't all be going on a new iPhone this year, even if the mass market can't get enough of it. It's good, very good. But it's no longer the best around."
Pocket Lint Review by Stuart Miles
- "It is now chamfered and while that looks pretty, we've already noticed that on the black model the edge has started to wear, revealing the shiny silver aluminium metal underneath the "slate" coloured coating and, indeed, we've witnessed it on two separate models, ruling out a fluke manufacturing error."
TechCrunch Review by MG Siegler
- "One nice side effect of the letterboxing is that the iOS system elements can still use the larger screen. So, for example, when Push Notifications come in, they flip down from the top of the screen and settle perfectly above the 3.5-inch app (as opposed to on top of it)."
Others
- USA Today Review by Edward Baig
- Daring Fireball Review by John Gruber
- CBC Review by Peter Nowak
Overall, the reviews are very positive. Regular iPhone users seem to enjoy the added space. Everyone seems to comment on the lightness and thinness of the device. Apple's 2x speed claims and battery claims seem accurate. The new Lightning connector seems to be physically nice, though there is disappointment there is no speed improvement in syncing as compared to the old sync cable/connectors.