Apple's EarPods Receive the Teardown Treatment
The teardown experts at iFixit are undoubtedly itching to get their hands on the iPhone 5 later this week, and in the meantime they've decided to bide their time by taking apart Apple's new EarPods to see how the earphones compare to their predecessors. Overall, the teardown reveals a significantly revamped design with greater durability in the form of better-sealed components and increased cord strain relief features.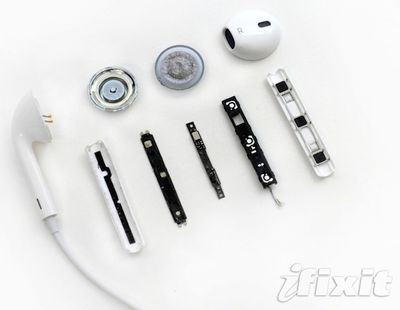 Among the most interesting changes is a move to paper cones surrounded by a polymer, shifting away from the all-plastic design seen in the previous headphones.
- Apple's switch to paper-based speaker cones may be the source of their advertised improved low and mid-range response.

- We also discovered that the speaker basket has a much more refined look than previous models (see comparison in next step), with a fine mesh covering the back and symmetrically-placed vents. The basket is a critical component, as it must be rigid to maintain consistent sound quality while still being open enough to not inhibit movement of air behind the vibrating diaphragm.
Early reviews of the EarPods indicate that they perform significantly better than the stock headphones included with previous iPhone and iPod models, but still fall far short of higher-quality offerings available from other companies. Apple is including the EarPods with the iPhone 5 and the new iPod touch and iPod nano, and is also selling them as a standalone $29 accessory.