New iPhone 5 Pre-orders Through Verizon Slip to September 26 Delivery [Update: AT&T at 14-21 Days]
While Apple's shipping estimates on iPhone 5 pre-orders quickly slipped to two weeks just an hour after the online store reopened earlier, the company's U.S. carrier partners have seen their supplies holding up a bit better with continued estimates of delivery on launch day on September 21.
That appears to be changing now, as Verizon is the first of the three major U.S. carriers to see its shipping estimates slip with new pre-orders now estimated to arrive on September 26.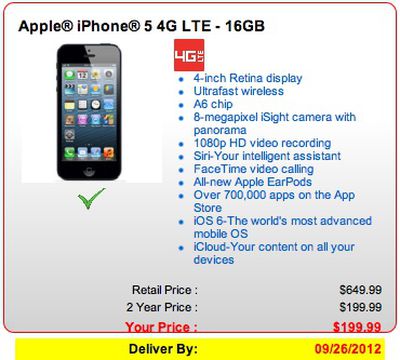 AT&T and Sprint are still citing September 21 availability, but it appears that customers may want to move quickly if they wish to obtain the iPhone 5 on launch day without waiting in line at retail stores.
Update 9:15 AM: While AT&T's site continues to cite delivery on September 21 for new pre-orders, a number of customers are reporting that their confirmation emails are quoting shipment in 14-21 business days.
Update 9:55 AM: AT&T's site is now quoting the 14-21 business day shipping estimate previously reported by some customers.