iPhone 5 Photos and Hands on Impressions
After the media event, Apple allowed the attendees to use the new iPhone 5 in a hands on area. Many of the early impressions seem to be focused on how light and thin the new iPhone feels. Despite the decrease in weight, the iPhone 5 appears to be sturdy due to its aluminum design.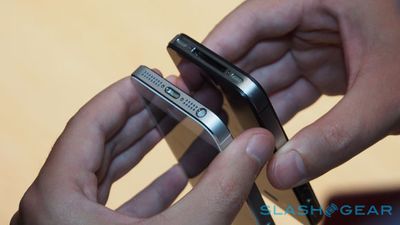 Here are a roundup of some of the early impressions:
TechCrunch
- "Build quality is quite nice and the solid aluminum is quite unique and quite solid. Hopefully this will reduce some damage if it falls on a hard surface."
Telegraph.co.uk
- "The biggest change, literally, is the larger screen. Here, I'm thankful that Apple opted not to go wider. Samsung's Galaxy S3 is too big for my taste and I think Apple is right to say that the width of the iPhone is right for the average hand."


Slashgear
- "Gripping it, your thumb is able to navigate the full length of the display without stretching, just as promised, and while it's undoubtedly a light handset it doesn't feel delicate."
Engadget
- "Much like the speed increases between the iPhone 4 and 4S (and before that, the iPhone 3G vs. iPhone 3GS), they won't take you by storm right away. But, use it for half an hour and you'll have a hard time going back to a slower chip. The transitions are smoother, switching between apps is a bit quicker and everything just generally feels incrementally faster."
Anandtech
- "The phone feels very thin and light (obviously), and the improvement in performance is very noticeable compared to the 4S."
They shot a nice video showing the speed of the device and features: