T-Mobile USA Launches Effort to Attract 'Bring Your Own iPhone' Customers
While T-Mobile USA is preparing to refresh its employee training on "selling against the iPhone" later this month as Apple rolls out the iPhone 5, the carrier is also seeking to embrace those who already own an unlocked iPhone. T-Mobile today announced a new "Bring Your Own iPhone" initiative including demo iPhone units in its stores, new apps, and enhanced staff training to help iPhone owners get up and running on the only one of the four major U.S. carriers to not officially offer the iPhone for sale.
We see a big opportunity to make the experience of bringing an unlocked iPhone to T-Mobile even better for customers.

That's why, beginning September 12th, we're stepping up our efforts to attract customers with unlocked iPhones to T-Mobile. Each of our branded retail stores will receive an iPhone 4s demo unit and our sales staff will start training to help customers set up their compatible iPhone. We're also developing iOS versions of helpful T-Mobile applications like T-Mobile myAccount, T-Mobile Visual Voicemail and T-Mobile TV (we already offer an iOS version of our popular Bobsled application).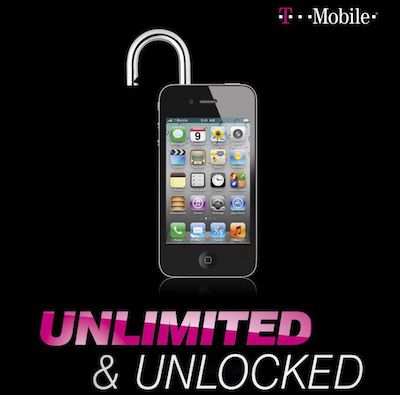 iPhone users on T-Mobile USA have long been limited to the carrier's slower 2G network due to incompatibilities between the iPhone and T-Mobile's 3G network, but the carrier has been working hard to refarm its spectrum to bring advanced 4G HSPA+ speeds to the iPhone and other devices. With that refarmed spectrum showing up in more and more markets, T-Mobile is touting the increased speed iPhone users will see on this network compared to AT&T.
In fact, we're already starting to turn up 4G HSPA+ service in our 1900 MHz spectrum. With sites already live in cities like Seattle, Las Vegas, Washington DC and the New York metro area, don't be surprised to hear reports of iPhone "speed sightings." We expect to have these improvements deployed in a large number of markets later this year.

Our internal tests of unlocked iPhone 4S devices running over 4G (HSPA+) on our 1900 network recorded on average 70% faster download speeds than iPhone 4S devices on AT&T's network.
T-Mobile is also touting significant savings for customers bringing their devices over from AT&T, noting that its $69.99/month Unlimited Talk, Text and Data plan is $50 cheaper than a plan from AT&T offering unlimited talk and text and 5 GB of data.