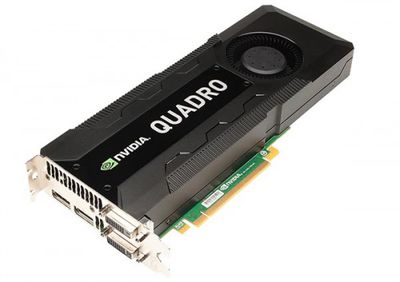 As noted by Engadget, NVIDIA has announced that the Quadro K5000 will be available for the Mac Pro later this year.
The Kepler-based design offers a professional-class GPU for the Mac. Features listed by NVIDIA include:
- Cinema 4K display support (4096x2160 resolution)
- A new display engine that can drive up to four displays simultaneously
- 4 GB graphics memory that provides faster interactivity when using design and content creation applications
- Based on NVIDIA Kepler architecture, which enables the Quadro K5000 GPU for Mac to run key content creation applications up to 2x faster at lower power than the Fermi-based Quadro 4000 for Mac(3)
- Support for up to two Quadro K5000 GPUs for Mac in a single Mac Pro
- Support for OpenGL, OpenCL and NVIDIA CUDA(TM)
NVIDIA describes the Quadro K5000 as ideal for professional applications such as video editing, color correction, compositing, design visualization and GPU-accelerated ray-traced 3D rendering. Estimated pricing starts at $2,249 and availability later this year.