New Photos Show Details of Alleged 'iPad Mini' Rear Shell
A number of photos of the rear shell of the "iPad mini", both alleged actual parts and physical mockups, have been leaking in recent weeks, but a Nowhereelse.fr points to a new set [Google translation] at Chinese site NetEase showing in fairly good detail both the interior and exterior of the shell. The part is alleged to be a legitimate rear shell leaked from an original equipment manufacturer (OEM) in Shenzhen, China.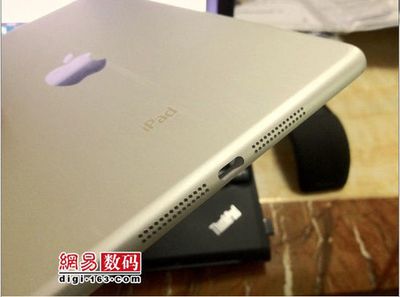 The pictures show a number of details of the rear shell, including the opening for Apple's smaller dock connector expected to debut on the iPhone 5 next week, a rear camera hole, and the interior lip where the display and front panel will be attached. The shell appears to be for a Wi-Fi model, as it lacks a cutout for a SIM card and an open section along the top edge for a plastic window covering where the cellular antennas would be.


As with other recently-leaked photos, the rear shell shows relatively little tapering compared to the current full-size iPad, instead carrying a rounded, almost partial bullnose profile along the sides.


While Apple is holding a media event next Wednesday, the company is said to be focusing on the new iPhone for this event and planning a separate media event for October to introduce the iPad mini.