Apple's Crowded Late 2012 Product Introduction Schedule Forced by Delays to iMac and iPad Mini
KGI Securities analyst Ming-Chi Kuo has released a new research report outlining his thoughts on Apple's product introductions for the remainder of 2012, noting that delays in some necessary components have forced Apple into a very tight timeline that is less than ideal and which may impact growth over the short-term. The delays have affected several products, including the new "iPad mini" and an updated iMac.
Our survey shows that Apple will take the wraps off quite a few new products in September and October. From a marketing and sales point of view, too many new products in a short period of time is not a positive thing. An interval of at least two weeks between different products is needed; otherwise the promotional campaign will lack a clear focus and shopping line management will become overly complicated, not good for a satisfactory shopping experience. The good news is that we think Apple is well aware of the situation and is doing what it can to keep each new product's launch as isolated an event as possible.
Recognizing that Apple is working to stagger its new product releases to ensure good visibility for each of them, Kuo has stretched out his estimated schedule from his report last month that saw nearly every product being introduced in September. Kuo now believes that the 13-inch Retina MacBook Pro and an updated 21.5-inch iMac could appear at any time, followed by the next-generation iPhone and iPod touch in mid-September. A tweaked full-size iPad and updated iPod nano would follow in early October, with the iPad mini and new 27-inch iMac later in October.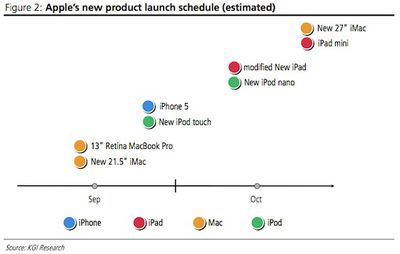 Kuo's report also walks through each of the products and highlights the production challenges that have forced Apple's hand on release dates.
On the iMac front, Kuo indicates that Apple will not be introducing Retina displays to the lineup this year, but that the company is working to fully laminate the current display panel to the cover glass for improved display quality. The process has proven to be challenging, and with lower yields on the 27-inch display than on the 21.5-inch panel, Kuo is modeling for sooner availability of the smaller model. We would naturally expect Apple to introduce both models at the same time, but the 27-inch may see either delayed availability or tight initial supplies as production on the panels ramps up.
Apple's work on the iPad mini has reportedly been slowed by the adoption of a thinner and lighter "GF Ditto" touch structure. Apple is said to be the first company in the world to commercialize and mass produce the technology, but equipment transitions and yield issues have reportedly forced Apple into its October launch for the device.
For the iPhone, he believes that Apple's suppliers should be able to offer sufficient supplies of the new in-cell display but that ramping has been slow due to some technical hurdles and logistics of packing the new display into a thinner body. Kuo predicts that the new iPod touch will adopt the same in-cell display technology and be released alongside the new iPhone, but that supplies could be constrained with priority for the new displays being given to the iPhone.
As for the iPod nano, Kuo believes that the device will indeed incorporate Wi-Fi connectivity as was rumored over the weekend and a revamped body with larger screen, but that issues with integrating the Wi-Fi chip into the revised iPod nano body will lead to a mid-October launch for the device.