Apogee Electronics has long been one of the most highly-regarded manufacturers of professional audio equipment for Mac users, with the company's Duet 2 portable recording interface being one of its key products. The Duet 2 features dual inputs and an OLED display to help users make studio quality recordings in a wide variety of settings.
Apogee is now teasing an announcement for September 4 with the tagline "It's what you've been waiting four" hinting at a quad-input product. The partly shadowed image of the device on the teaser page appears to show a device larger than the Duet 2 but still carrying the same iconic controller knob seen on the company's portable interface boxes.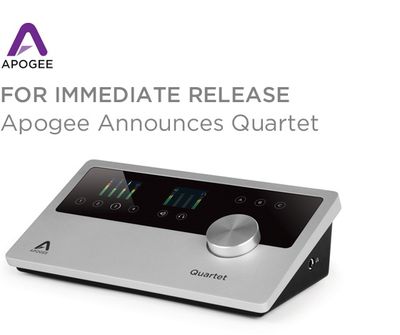 While full details on the product have yet to be revealed, the company appears to have briefly leaked an unmasked image of the device on its site yesterday. Controls on the box hint at four separate inputs, as well as some likely user-assignable touchpad keys as seen on the Duet 2.
A listing for the Apogee Quartet has appeared on Musician's Friend with a price of $1395 and an expected availability date of September 11.