Apple Broadens Access to Advanced Online Store Chat Services for UK, Germany, Spain
Pocket-lint notes that Apple's online store downtime earlier today saw the expansion of chat support services for iPad and iPhone customers in the UK, Germany, Spain, and Brazil. The updated chat options include the ability to participate in a traditional text chat with a Specialist, a guided tour in which the customer can share the Specialist's screen to be walked through product information, and scheduling of online sessions to help set up new devices.
Now there's a whole new way to get help from the Apple Online Store. When shopping for a new iPad or iPhone, you can get answers to all your questions through a personalised, online guided tour. We can even help set up your new product after you get it.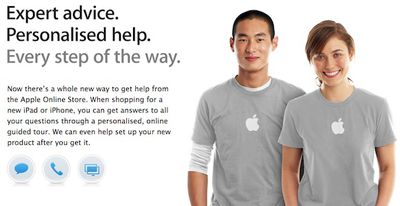 The features are not completely new, as Apple rolled out revamped text chat windows and began testing the screen sharing option in Brazil back in April. At the time, the screen sharing feature was limited to customers shopping for the iPad 2.
The advanced chat screen sharing and device setup options are not yet available in the United States or other countries, and even in countries where the options have launched availability may be limited.