Another Apple 1 Headed to Auction with $125,000 Estimate
Back in June, we noted the sale of one of only about 50 Apple 1 computers still in existence. That unit, which sold at auction for approximately $375,000, was reported to be one of just a handful of functioning Apple 1's in existence.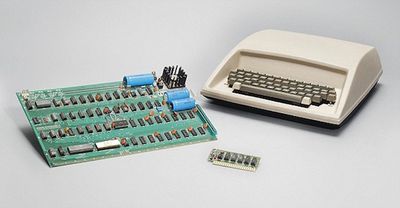 The Daily Mail now reports that another Apple 1 is headed to the auction block in early October, but with this unit being non-functional it has been estimated to fetch a lower but still substantial £80,000, or roughly $125,000.
The iconic original is on offer at a Christie's auction in central London on October 9 and comes from the estate of Joe Copson, a former Apple employee.

The rare opportunity to buy an original is expected to attract worldwide interest from museums and private technology collectors.
Rare machines such as the Apple 1 appear on the market infrequently, although there has been an uptick in listings as owners have seen last year's passing of Steve Jobs and Apple's popularity as good reasons to sell. In addition to the functional Apple 1 sold earlier this year, Apple's founding documents were also sold at auction for nearly $1.6 million late last year.
The Apple 1 was originally priced at $666.66 at its release in 1976, with only about 200 of the units having been produced. Roughly 30 to 50 of them are believed to still be intact.