Apple's Eddy Cue Suggests Apple Television Unlikely in Near-Term
Fortune reports on a new analyst report published by Pacific Crest's Andy Hargreaves. The report was written after a meeting on Wednesday with Apple's Peter Oppenheimer and Eddy Cue, Apple Senior Vice President for Internet services and software.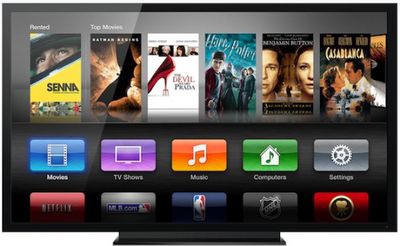 Hargreaves' interpretation of that meeting was that an Apple television would be "extremely unlikely" in the near term. Hargreaves writes:
Relative to the television market, Eddy Cue, Apple SVP of Internet Software and Services, reiterated the company's mantra that it will enter markets where it feels it can create great customer experiences and address key problems. The key problems in the television market are the poor quality of the user interface and the forced bundling of pay TV content, in our view. While Apple could almost certainly create a better user interface, Mr. Cue's commentary suggested that this would be an incomplete solution from Apple's perspective unless it could deliver content in a way that is different from the current multichannel pay TV model.
As pointed out by Fortune's Philip Elmer-DeWitt, SEC rules prohibit sharing insider information that might have material affect on the company's stock, so Hargreaves' interpretation is just that - his interpretation of Apple's comments about delivering a "great customer experience and addressing key problems."
Apple has been rumored to be entering the television market for some time. The most recent rumors, however, have suggested that Apple is still deep in negotiations for content for their television services.