Apple Preparing to Begin Seeding OS X 10.8.2 Builds for Testing
Even as Apple is continuing to seed builds of OS X 10.8.1 to developers in order to address some of the most significant issues with the initial release version of OS X Mountain Lion, the company has already notified some users that it is preparing to begin seeding builds of OS X 10.8.2 for testing.
Join us for 10.8.2!

You are invited to participate in the next Mountain Lion Software Update seed project, 10.8.2. Apple will provide you with the pre-release software. Once builds are available, we ask that you install and test each build to help us make sure that this is a high quality release!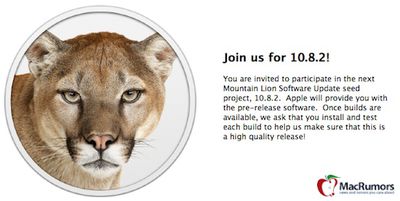 While Apple is likely moving fairly quickly on OS X 10.8.1 in order to deliver fixes for major issues to users as quickly as possible, the company may spend more time on OS X 10.8.2 to address other issues that require attention but which are not of as critical importance.