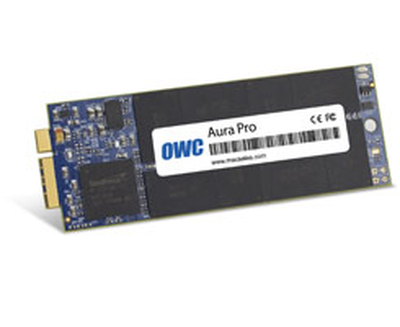 Other World Computing has released a 480GB aftermarket SSD upgrade for the Retina MacBook Pro. However, while OWC's upgrades for the MacBook Air are very price-competitive with the storage upgrades available at the Apple Online Store, the 480GB Aura Pro 6G is less clear-cut.
In its blog post announcing the release, OWC notes that "when introduced this past June, the MacBook Pro with Retina display base model offered a 256GB SSD configuration with no upgrade option." While this used to be true, at the beginning of this month, Apple expanded the custom configuration options for the Retina MacBook Pro. Now, users can upgrade the base model with either 512 or 768GB of storage.
The 512GB upgrade costs $500 from Apple, while OWC offers the 480GB SSD for $579.99. Though it appears to be more expensive, the OWC upgrade does allow users to keep the 256GB drive that comes in the notebook by default. For purchasers ordering the Mercury Aura Pro before September 30, OWC will include the $60 OWC Envoy Pro for free, an external USB 3.0 enclosure for the SSD drive from the Retina MacBook Pro. This gives users a very speedy (and very small) external drive.