Samsung's Massive Document Outlining How to Improve Galaxy S by Adopting iPhone Solutions Surfaces
AllThingsD reports that the ongoing patent and design dispute between Apple and Samsung has yielded yet another interesting piece of evidence, this time in the form of a massive internal Samsung document from 2010 showing 126 different aspects of the company's Galaxy S smartphone that were considered to need improvement. Each shortcoming is displayed with a comparison to how the issue is handled on the iPhone and includes a recommendation that in most cases outlines how Samsung should make the behavior of the Galaxy S more like that of the iPhone.
Authored by Samsung's product engineering team, the document evaluates everything from the home screen to the browser to the built-in apps on both devices. In each case, it comes up with a recommendation on what Samsung should do going forward and in most cases its answer is simple: Make it work more like the iPhone.

In short, the evaluation report makes the case that the Galaxy (identified here as the "S1″) would be better if it behaved more like the iPhone and featured a similar user interface.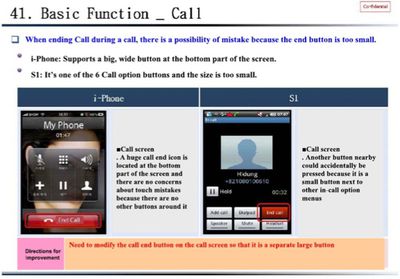 As the report notes, the document itself is not proof of Samsung's infringement of Apple's utility or design patents or its trade dress, but Apple is clearly using it to build its case that Samsung was looking to the iPhone as a superior device and in many cases seeking to copy the iPhone's solutions to user interface and other issues.