Evernote has added the ability to switch between multiple Evernote accounts to the Mac version of the popular note taking and organization app. The update gives power users with more than one account, or those with multiple Evernote users sharing one computer, a simple but useful feature.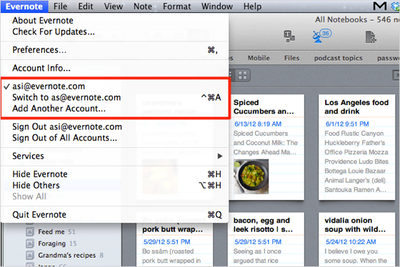 The update also includes a number of more minor additions:
A slew of UI tweaks and keyboard shortcuts have been added, and there's now the ability to post a note to LinkedIn from the app. Evernote's blog points out that Evernote 3.3 from the Mac App Store complies with Mountain Lion's sandboxing rules, and "it is possible that users on older versions of Mac OS X will experience changes in functionality."
Evernote for Mac is available free via the Mac App Store [Direct Link] or for iPhone and iPad via the App Store. [Direct Link]
Evernote premium accounts are available for $5/month or $45/year. Premium accounts include a larger upload capacity, greater sharing options, access to note history, and more.