Apple's Opening Court Statement Focuses on Samsung's Radical Shift in Phone Design
While court documents filed in relation to the high-profile U.S. legal battle between Apple and Samsung have yielded a treasure trove of images of prototypes and concepts for iPhone and iPad designs, the court case is just now getting underway. Reuters reports on some of the early developments today, including opening statements from Apple's lead lawyer outlining how the company will argue that Samsung's radical shift in phone design was driven by its desire to copy Apple's ideas for the iPhone.
Apple attorney Harold McElhinny started off by showing slides that featured old Samsung phones from 2006 and compared it to the Korean company's newer smartphones from 2010.

The key question, McElhinny said, would be how Samsung moved from the old phones to "these phones."

"As we all know it is easier to copy than to innovate," he told the court. "Apple had already taken the risks."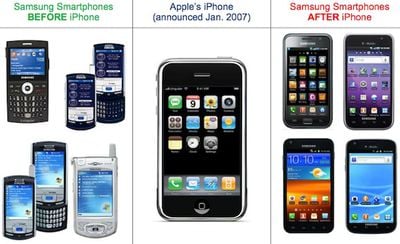 Source: Apple pre-trial court filing
Key to McElhinny's presentation setting the stage for the trial was evidence in the form of internal Samsung documents showing that the company recognized the design challenges it faced and felt that the iPhone would be "easy to copy".
McElhinny showed jurors an internal Samsung product analysis which said the iPhone's hardware was "easy to copy." Another document prepared by a Samsung executive said the company was in a "crisis of design" due to the iPhone.
Samsung has yet to make its opening statement in the case, but its filings made so far have shown how it will attempt to undermine Apple's case by arguing that Apple had copied some of its design ideas from others and that it has refused to properly license key technologies controlled by Samsung.
Jurors in the trial face a complex task of weighing the merits of Apple's and Samsung's arguments on issues related to patents and trade dress infringement. IDG News Service highlights the instructions given to the jury by Judge Lucy Koh summarizing the basic allegations from each side and offering guidance on how to evaluate the evidence.